What's The Difference Between a Dog Trainer And A Dog Whisperer?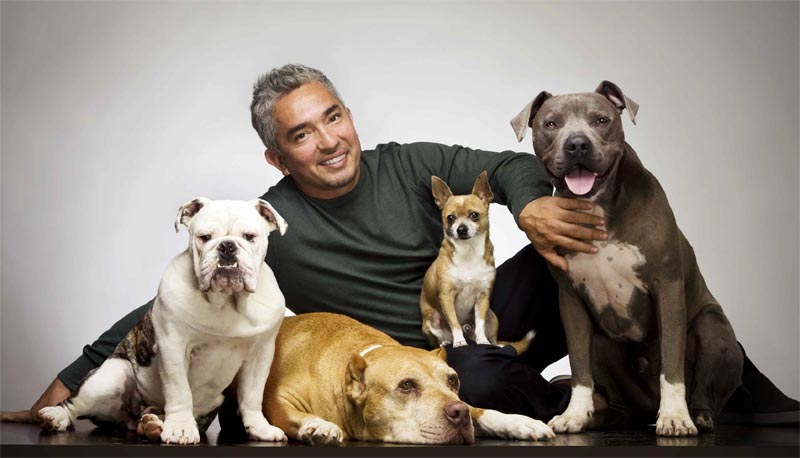 In the world of dog training and behavior modification, there's an ongoing debate as to how you should train your dog. Should you use both reward and punishment, or do you just go with giving treats? What about crating, or the use of shock collars? And what's the difference between a dog trainer and a dog whisperer?
The term "dog whisperer" can be confusing because it can mean different things to different people. The term "whisperer" began with the novel and film The Horse Whisperer, and it featured a man who seemed to be able to communicate calmly with horses. Soon the term "whisperer" became a generic word for anyone who can tame a beast or master any sort of difficult undertaking.
The novel was based on an actual "horse whisperer" named Buck Brannaman. According to the novelist Nicholas Evans, Brannaman was a gentle and kind-hearted man, and he used Zen-like tactics to soothe troubled creatures.
Among many users of the term, that gentle approach is also the main tactic of a dog whisperer. It emphasizes treating the dog as a dog, and not as a four-legged human. The approach provides for specific needs of the dog so they can lead a well-balanced life.
On the other hand, a dog trainer modifies the behavior of a dog to conform to the needs of their human masters. Thus, a dog whisperer will try to understand why a dog tends to bark incessantly. A dog trainer, on the other hand, will train a dog to stop this annoying behavior. That's the key difference!
Looking for a dog whisperer in Oahu? Inquire about our Dog Whispering services. We service Oahu island-wide with Aloha pride! We look forward to meeting you and your beloved pets! Mahalo!
eyJpZCI6IjExIiwibGFiZWwiOiJJbnN0YW50IFF1b3RlIiwiYWN0aXZlIjoiMSIsIm9yaWdpbmFsX2lkIjoiNiIsInVuaXF1ZV9pZCI6ImJqbDE3YiIsInBhcmFtcyI6eyJlbmFibGVGb3JNZW1iZXJzaGlwIjoiMCIsInRwbCI6eyJ3aWR0aCI6IjEwMCIsIndpZHRoX21lYXN1cmUiOiIlIiwiYmdfdHlwZV8wIjoiY29sb3IiLCJiZ19pbWdfMCI6IiIsImJnX2NvbG9yXzAiOiIjMzMzMzMzIiwiYmdfdHlwZV8xIjoibm9uZSIsImJnX2ltZ18xIjoiIiwiYmdfY29sb3JfMSI6IiNmZmZmZmYiLCJiZ190eXBlXzIiOiJjb2xvciIsImJnX2ltZ18yIjoiIiwiYmdfY29sb3JfMiI6IiNlZjYxNjEiLCJiZ190eXBlXzMiOiJjb2xvciIsImJnX2ltZ18zIjoiIiwiYmdfY29sb3JfMyI6IiNkZDMzMzMiLCJmaWVsZF9lcnJvcl9pbnZhbGlkIjoiIiwiZm9ybV9zZW50X21zZyI6IlRoYW5rIHlvdSBmb3IgaW5xdWlyaW5nIHdpdGggdXMhIiwiZm9ybV9zZW50X21zZ19jb2xvciI6IiNlYzkxMjkiLCJoaWRlX29uX3N1Ym1pdCI6IjEiLCJyZWRpcmVjdF9vbl9zdWJtaXQiOiJodHRwczpcL1wvd3d3LmdvdHBvby5iaXpcL3ByaWNpbmdcLyIsInJlZGlyZWN0X29uX3N1Ym1pdF9uZXdfd25kIjoiMSIsInRlc3RfZW1haWwiOiJhbGlAZ290cG9vLmJpeiIsInNhdmVfY29udGFjdHMiOiIxIiwiZXhwX2RlbGltIjoiOyIsImZiX2NvbnZlcnRfYmFzZSI6IiIsInB1Yl9wb3N0X3R5cGUiOiJwb3N0IiwicHViX3Bvc3Rfc3RhdHVzIjoicHVibGlzaCIsInJlZ193cF9jcmVhdGVfdXNlcl9yb2xlIjoic3Vic2NyaWJlciIsImZpZWxkX3dyYXBwZXIiOiI8ZGl2IFtmaWVsZF9zaGVsbF9jbGFzc2VzXSBbZmllbGRfc2hlbGxfc3R5bGVzXT5bZmllbGRdPFwvZGl2PiJ9LCJmaWVsZHMiOlt7ImJzX2NsYXNzX2lkIjoiMTIiLCJuYW1lIjoiIiwibGFiZWwiOiIiLCJwbGFjZWhvbGRlciI6IiIsInZhbHVlIjoiPHA+PGltZyBjbGFzcz1cImFsaWduY2VudGVyXCIgc3JjPVwiaHR0cHM6XC9cL3d3dy5nb3Rwb28uYml6XC93cC1jb250ZW50XC91cGxvYWRzXC8yMDE3XC8wNFwvZ290LXBvby1wZXQtd2FzdGUtcmVtb3ZhbC1wZXQtc2VydmljZXMtaGF3YWlpLWxvZ28ucG5nXCIgXC8+PFwvcD48aDMgY2xhc3M9XCJoZWFkX2Zvcm1cIiBzdHlsZT1cInRleHQtYWxpZ246IGNlbnRlcjtcIj5HRVQgQU4gSU5TVEFOVCBRVU9URTxcL2gzPjxwIGNsYXNzPVwiZGVzY3JpcHRpb25cIiBzdHlsZT1cInRleHQtYWxpZ246IGNlbnRlcjtcIj5GaWxsIG91dCB0aGlzIGZvcm0gdG8gZ2V0IGluc3RhbnQgcHJpY2luZyBvbiBvdXIgT2FodSBwb29wZXIgc2Nvb3BlciBzZXJ2aWNlcyBhbmQgb3RoZXIgcGV0IHNlcnZpY2VzLjxcL3A+IiwiaHRtbCI6Imh0bWxkZWxpbSIsIm1hbmRhdG9yeSI6IjAiLCJhZGRfY2xhc3NlcyI6IiIsImFkZF9zdHlsZXMiOiIiLCJhZGRfYXR0ciI6IiJ9LHsiYnNfY2xhc3NfaWQiOiI2IiwibmFtZSI6ImZpcnN0X25hbWUiLCJsYWJlbCI6IkZpcnN0IE5hbWUiLCJwbGFjZWhvbGRlciI6IiIsInZhbHVlIjoiIiwiaHRtbCI6InRleHQiLCJtYW5kYXRvcnkiOiIxIiwibWluX3NpemUiOiIiLCJtYXhfc2l6ZSI6IiIsImFkZF9jbGFzc2VzIjoiIiwiYWRkX3N0eWxlcyI6IiIsImFkZF9hdHRyIjoiIiwidm5fb25seV9udW1iZXIiOiIwIiwidm5fb25seV9sZXR0ZXJzIjoiMCIsInZuX3BhdHRlcm4iOiIwIn0seyJic19jbGFzc19pZCI6IjYiLCJuYW1lIjoibGFzdF9uYW1lIiwibGFiZWwiOiJMYXN0IE5hbWUiLCJwbGFjZWhvbGRlciI6IiIsInZhbHVlIjoiIiwiaHRtbCI6InRleHQiLCJtYW5kYXRvcnkiOiIwIiwibWluX3NpemUiOiIiLCJtYXhfc2l6ZSI6IiIsImFkZF9jbGFzc2VzIjoiIiwiYWRkX3N0eWxlcyI6IiIsImFkZF9hdHRyIjoiIiwidm5fb25seV9udW1iZXIiOiIwIiwidm5fb25seV9sZXR0ZXJzIjoiMCIsInZuX3BhdHRlcm4iOiIwIn0seyJic19jbGFzc19pZCI6IjEyIiwibmFtZSI6ImVtYWlsIiwibGFiZWwiOiJFbWFpbCIsInBsYWNlaG9sZGVyIjoiIiwidmFsdWUiOiIiLCJodG1sIjoiZW1haWwiLCJtYW5kYXRvcnkiOiIxIiwibWluX3NpemUiOiIiLCJtYXhfc2l6ZSI6IiIsImFkZF9jbGFzc2VzIjoiIiwiYWRkX3N0eWxlcyI6IiIsImFkZF9hdHRyIjoiIiwidm5fb25seV9udW1iZXIiOiIwIiwidm5fb25seV9sZXR0ZXJzIjoiMCIsInZuX3BhdHRlcm4iOiIwIn0seyJic19jbGFzc19pZCI6IjEyIiwibmFtZSI6InBob25lIiwibGFiZWwiOiJQaG9uZSBOdW1iZXIiLCJwbGFjZWhvbGRlciI6IiIsInZhbHVlIjoiIiwidmFsdWVfcHJlc2V0IjoiIiwiaHRtbCI6InRleHQiLCJtYW5kYXRvcnkiOiIxIiwibWluX3NpemUiOiIiLCJtYXhfc2l6ZSI6IiIsImFkZF9jbGFzc2VzIjoiIiwiYWRkX3N0eWxlcyI6IiIsImFkZF9hdHRyIjoiIiwidm5fb25seV9udW1iZXIiOiIwIiwidm5fb25seV9sZXR0ZXJzIjoiMCIsInZuX3BhdHRlcm4iOiIiLCJ2bl9lcXVhbCI6IiIsImljb25fY2xhc3MiOiIiLCJpY29uX3NpemUiOiIiLCJpY29uX2NvbG9yIjoiIn0seyJic19jbGFzc19pZCI6IjEyIiwibmFtZSI6InNlcnZpY2VzIiwibGFiZWwiOiJQZXQgU2VydmljZXMgRGVzaXJlZD8iLCJ2YWx1ZSI6IiIsInZhbHVlX3ByZXNldCI6IiIsImh0bWwiOiJzZWxlY3Rib3giLCJtYW5kYXRvcnkiOiIxIiwibGFiZWxfZGVsaW0iOiIiLCJhZGRfY2xhc3NlcyI6IiIsImFkZF9zdHlsZXMiOiIiLCJhZGRfYXR0ciI6IiIsImljb25fY2xhc3MiOiIiLCJpY29uX3NpemUiOiIiLCJpY29uX2NvbG9yIjoiIiwidGVybXMiOiIiLCJvcHRpb25zIjpbeyJuYW1lIjoiV2FzdGUgUmVtb3ZhbCIsImxhYmVsIjoiV2FzdGUgUmVtb3ZhbCJ9LHsibmFtZSI6Ik9kb3IgRWxpbWluYXRpb24iLCJsYWJlbCI6Ik9kb3IgRWxpbWluYXRpb24ifSx7Im5hbWUiOiJEb2cgV2Fsa2luZyIsImxhYmVsIjoiRG9nIFdhbGtpbmcifSx7Im5hbWUiOiJQZXQgSGlrZXMgJiBBZHZlbnR1cmVzIiwibGFiZWwiOiJQZXQgSGlrZXMgJiBBZHZlbnR1cmVzIn0seyJuYW1lIjoiRG9nIFRyYWluaW5nIiwibGFiZWwiOiJEb2cgVHJhaW5pbmcifSx7Im5hbWUiOiJEb2cgV2hpc3BlcmluZyIsImxhYmVsIjoiRG9nIFdoaXNwZXJpbmcifSx7Im5hbWUiOiJEb2cgU3dpbW1pbmciLCJsYWJlbCI6IkRvZyBTd2ltbWluZyJ9LHsibmFtZSI6IkRvZyBXZWlnaHQgTG9zcyBCb290Y2FtcCIsImxhYmVsIjoiRG9nIFdlaWdodCBMb3NzIEJvb3RjYW1wIn0seyJuYW1lIjoiRG9nIEFkdmVudHVyZSBDYW1wIiwibGFiZWwiOiJEb2cgQWR2ZW50dXJlIENhbXAifSx7Im5hbWUiOiJLOSBCZWQgJiBCcmVha2Zhc3QiLCJsYWJlbCI6Iks5IEJlZCAmIEJyZWFrZmFzdCJ9LHsibmFtZSI6IkluLUhvbWUgRG9nIFNpdHRpbmciLCJsYWJlbCI6IkluLUhvbWUgRG9nIFNpdHRpbmcifSx7Im5hbWUiOiJLaXR0eSBTaXR0aW5nIiwibGFiZWwiOiJLaXR0eSBTaXR0aW5nIn0seyJuYW1lIjoiT3RoZXIiLCJsYWJlbCI6Ik90aGVyIn1dfSx7ImJzX2NsYXNzX2lkIjoiMTIiLCJuYW1lIjoibWVzc2FnZSIsImxhYmVsIjoiSG93IEVsc2UgQ2FuIFdlIFNlcnZlIFlvdSBBbmQgWW91ciBQZXQ/IiwicGxhY2Vob2xkZXIiOiIiLCJ2YWx1ZSI6IiIsInZhbHVlX3ByZXNldCI6IiIsImh0bWwiOiJ0ZXh0YXJlYSIsIm1hbmRhdG9yeSI6IjAiLCJtaW5fc2l6ZSI6IiIsIm1heF9zaXplIjoiIiwiYWRkX2NsYXNzZXMiOiIiLCJhZGRfc3R5bGVzIjoiIiwiYWRkX2F0dHIiOiIiLCJ2bl9vbmx5X251bWJlciI6IjAiLCJ2bl9vbmx5X2xldHRlcnMiOiIwIiwidm5fcGF0dGVybiI6IjAiLCJ2bl9lcXVhbCI6IiIsImljb25fY2xhc3MiOiIiLCJpY29uX3NpemUiOiIiLCJpY29uX2NvbG9yIjoiIn0seyJic19jbGFzc19pZCI6IjEyIiwibmFtZSI6InNlbmQiLCJsYWJlbCI6IlNlbmQiLCJodG1sIjoic3VibWl0IiwiYWRkX2NsYXNzZXMiOiIiLCJhZGRfc3R5bGVzIjoiIiwiYWRkX2F0dHIiOiIifV0sIm9wdHNfYXR0cnMiOnsiYmdfbnVtYmVyIjoiNCJ9fSwiaW1nX3ByZXZpZXciOiJvcGFjaXR5LWdyZXkucG5nIiwidmlld3MiOiI2NDc1IiwidW5pcXVlX3ZpZXdzIjoiMzc4MiIsImFjdGlvbnMiOiI4MiIsInNvcnRfb3JkZXIiOiIxMCIsImlzX3BybyI6IjAiLCJhYl9pZCI6IjAiLCJkYXRlX2NyZWF0ZWQiOiIyMDE2LTA1LTAzIDE1OjAxOjAzIiwiaW1nX3ByZXZpZXdfdXJsIjoiaHR0cHM6XC9cL3N1cHN5c3RpYy00MmQ3Lmt4Y2RuLmNvbVwvX2Fzc2V0c1wvZm9ybXNcL2ltZ1wvcHJldmlld1wvb3BhY2l0eS1ncmV5LnBuZyIsInZpZXdfaWQiOiIxMV8yMjE1MTkiLCJ2aWV3X2h0bWxfaWQiOiJjc3BGb3JtU2hlbGxfMTFfMjIxNTE5IiwiY29ubmVjdF9oYXNoIjoiYjFmNzQ3NTFjYWI0NGY0YTFiZTE0YjBhNTVlZGMyMDQifQ==