Oahu Dog Walking Services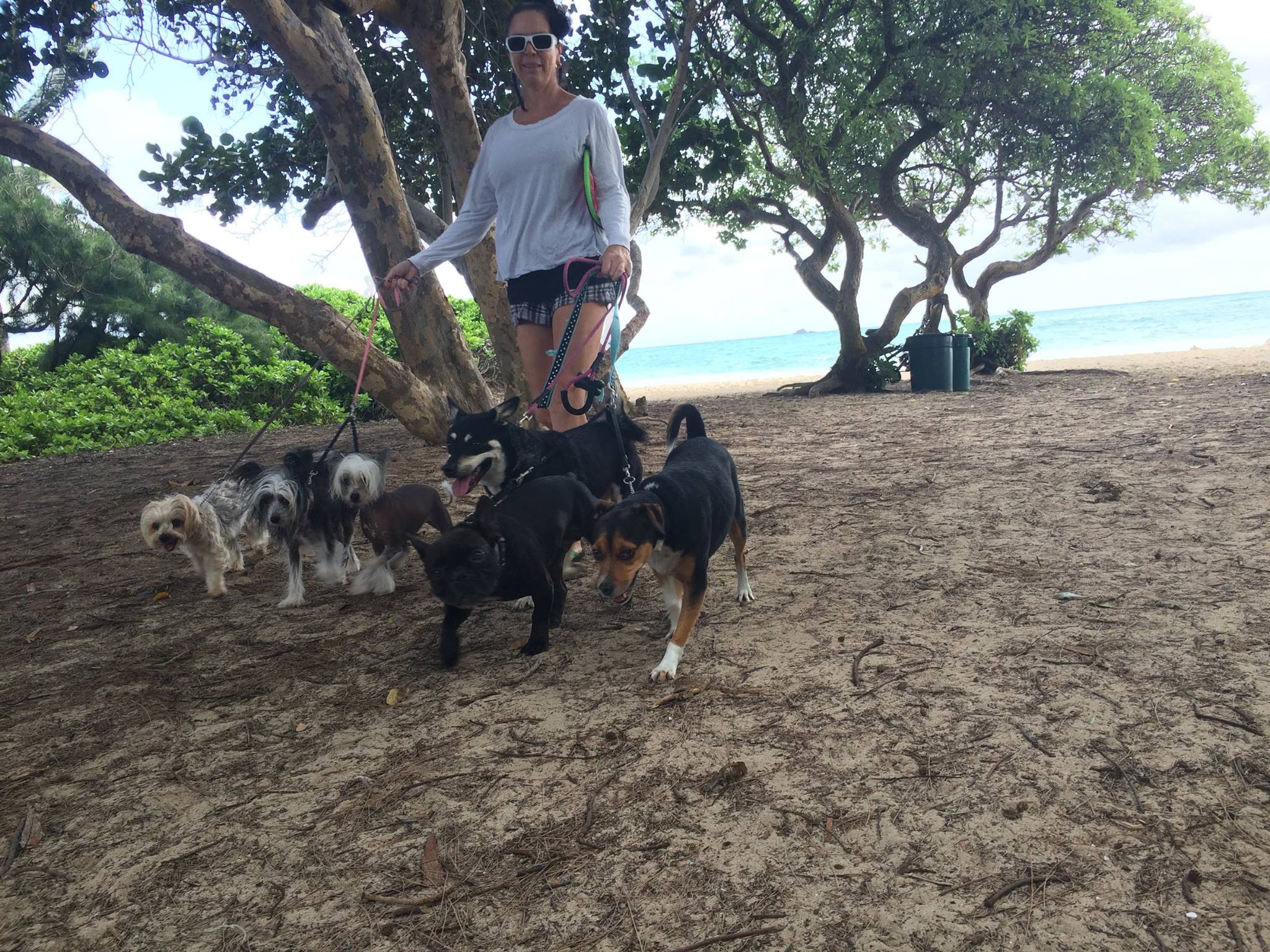 How often should you walk your dog?
Usually, you should walk your dog every day depending on your dog breed, size, and energy level. Dog's are naturally migratory animals and it's their natural instinct to want to explore.
"A dog's everyday walk is like your need for your daily dose of the news."
Leaving your dog at home in your yard all day can cause boredom. So, a nice walk every day will not only bring them excitement but it also provides them with needed exercise.
With that said, you should be walking your dog every day. But we, at Got Poo…? understand that with your busy lives it may not be a practical thing for you to every day.
Don't fret. That's where we come in!
If you aren't able to give your dog a walk every day, or even once every few days, call us, and we'll be more than happy to walk your dog(s).
We offer dog walking services on Oahu, island-wide with Aloha pride! Call us anytime or you may get pricing through our Instant Quote Form.
eyJpZCI6IjExIiwibGFiZWwiOiJJbnN0YW50IFF1b3RlIiwiYWN0aXZlIjoiMSIsIm9yaWdpbmFsX2lkIjoiNiIsInVuaXF1ZV9pZCI6ImJqbDE3YiIsInBhcmFtcyI6eyJlbmFibGVGb3JNZW1iZXJzaGlwIjoiMCIsInRwbCI6eyJ3aWR0aCI6IjEwMCIsIndpZHRoX21lYXN1cmUiOiIlIiwiYmdfdHlwZV8wIjoiY29sb3IiLCJiZ19pbWdfMCI6IiIsImJnX2NvbG9yXzAiOiIjMzMzMzMzIiwiYmdfdHlwZV8xIjoibm9uZSIsImJnX2ltZ18xIjoiIiwiYmdfY29sb3JfMSI6IiNmZmZmZmYiLCJiZ190eXBlXzIiOiJjb2xvciIsImJnX2ltZ18yIjoiIiwiYmdfY29sb3JfMiI6IiNlZjYxNjEiLCJiZ190eXBlXzMiOiJjb2xvciIsImJnX2ltZ18zIjoiIiwiYmdfY29sb3JfMyI6IiNkZDMzMzMiLCJmaWVsZF9lcnJvcl9pbnZhbGlkIjoiIiwiZm9ybV9zZW50X21zZyI6IlRoYW5rIHlvdSBmb3IgaW5xdWlyaW5nIHdpdGggdXMhIiwiZm9ybV9zZW50X21zZ19jb2xvciI6IiNlYzkxMjkiLCJoaWRlX29uX3N1Ym1pdCI6IjEiLCJyZWRpcmVjdF9vbl9zdWJtaXQiOiJodHRwczpcL1wvd3d3LmdvdHBvby5iaXpcL3ByaWNpbmdcLyIsInJlZGlyZWN0X29uX3N1Ym1pdF9uZXdfd25kIjoiMSIsInRlc3RfZW1haWwiOiJhbGlAZ290cG9vLmJpeiIsInNhdmVfY29udGFjdHMiOiIxIiwiZXhwX2RlbGltIjoiOyIsImZiX2NvbnZlcnRfYmFzZSI6IiIsInB1Yl9wb3N0X3R5cGUiOiJwb3N0IiwicHViX3Bvc3Rfc3RhdHVzIjoicHVibGlzaCIsInJlZ193cF9jcmVhdGVfdXNlcl9yb2xlIjoic3Vic2NyaWJlciIsImZpZWxkX3dyYXBwZXIiOiI8ZGl2IFtmaWVsZF9zaGVsbF9jbGFzc2VzXSBbZmllbGRfc2hlbGxfc3R5bGVzXT5bZmllbGRdPFwvZGl2PiJ9LCJmaWVsZHMiOlt7ImJzX2NsYXNzX2lkIjoiMTIiLCJuYW1lIjoiIiwibGFiZWwiOiIiLCJwbGFjZWhvbGRlciI6IiIsInZhbHVlIjoiPHA+PGltZyBjbGFzcz1cImFsaWduY2VudGVyXCIgc3JjPVwiaHR0cHM6XC9cL3d3dy5nb3Rwb28uYml6XC93cC1jb250ZW50XC91cGxvYWRzXC8yMDE3XC8wNFwvZ290LXBvby1wZXQtd2FzdGUtcmVtb3ZhbC1wZXQtc2VydmljZXMtaGF3YWlpLWxvZ28ucG5nXCIgXC8+PFwvcD48aDMgY2xhc3M9XCJoZWFkX2Zvcm1cIiBzdHlsZT1cInRleHQtYWxpZ246IGNlbnRlcjtcIj5HRVQgQU4gSU5TVEFOVCBRVU9URTxcL2gzPjxwIGNsYXNzPVwiZGVzY3JpcHRpb25cIiBzdHlsZT1cInRleHQtYWxpZ246IGNlbnRlcjtcIj5GaWxsIG91dCB0aGlzIGZvcm0gdG8gZ2V0IGluc3RhbnQgcHJpY2luZyBvbiBvdXIgT2FodSBwb29wZXIgc2Nvb3BlciBzZXJ2aWNlcyBhbmQgb3RoZXIgcGV0IHNlcnZpY2VzLjxcL3A+IiwiaHRtbCI6Imh0bWxkZWxpbSIsIm1hbmRhdG9yeSI6IjAiLCJhZGRfY2xhc3NlcyI6IiIsImFkZF9zdHlsZXMiOiIiLCJhZGRfYXR0ciI6IiJ9LHsiYnNfY2xhc3NfaWQiOiI2IiwibmFtZSI6ImZpcnN0X25hbWUiLCJsYWJlbCI6IkZpcnN0IE5hbWUiLCJwbGFjZWhvbGRlciI6IiIsInZhbHVlIjoiIiwiaHRtbCI6InRleHQiLCJtYW5kYXRvcnkiOiIxIiwibWluX3NpemUiOiIiLCJtYXhfc2l6ZSI6IiIsImFkZF9jbGFzc2VzIjoiIiwiYWRkX3N0eWxlcyI6IiIsImFkZF9hdHRyIjoiIiwidm5fb25seV9udW1iZXIiOiIwIiwidm5fb25seV9sZXR0ZXJzIjoiMCIsInZuX3BhdHRlcm4iOiIwIn0seyJic19jbGFzc19pZCI6IjYiLCJuYW1lIjoibGFzdF9uYW1lIiwibGFiZWwiOiJMYXN0IE5hbWUiLCJwbGFjZWhvbGRlciI6IiIsInZhbHVlIjoiIiwiaHRtbCI6InRleHQiLCJtYW5kYXRvcnkiOiIwIiwibWluX3NpemUiOiIiLCJtYXhfc2l6ZSI6IiIsImFkZF9jbGFzc2VzIjoiIiwiYWRkX3N0eWxlcyI6IiIsImFkZF9hdHRyIjoiIiwidm5fb25seV9udW1iZXIiOiIwIiwidm5fb25seV9sZXR0ZXJzIjoiMCIsInZuX3BhdHRlcm4iOiIwIn0seyJic19jbGFzc19pZCI6IjEyIiwibmFtZSI6ImVtYWlsIiwibGFiZWwiOiJFbWFpbCIsInBsYWNlaG9sZGVyIjoiIiwidmFsdWUiOiIiLCJodG1sIjoiZW1haWwiLCJtYW5kYXRvcnkiOiIxIiwibWluX3NpemUiOiIiLCJtYXhfc2l6ZSI6IiIsImFkZF9jbGFzc2VzIjoiIiwiYWRkX3N0eWxlcyI6IiIsImFkZF9hdHRyIjoiIiwidm5fb25seV9udW1iZXIiOiIwIiwidm5fb25seV9sZXR0ZXJzIjoiMCIsInZuX3BhdHRlcm4iOiIwIn0seyJic19jbGFzc19pZCI6IjEyIiwibmFtZSI6InBob25lIiwibGFiZWwiOiJQaG9uZSBOdW1iZXIiLCJwbGFjZWhvbGRlciI6IiIsInZhbHVlIjoiIiwidmFsdWVfcHJlc2V0IjoiIiwiaHRtbCI6InRleHQiLCJtYW5kYXRvcnkiOiIxIiwibWluX3NpemUiOiIiLCJtYXhfc2l6ZSI6IiIsImFkZF9jbGFzc2VzIjoiIiwiYWRkX3N0eWxlcyI6IiIsImFkZF9hdHRyIjoiIiwidm5fb25seV9udW1iZXIiOiIwIiwidm5fb25seV9sZXR0ZXJzIjoiMCIsInZuX3BhdHRlcm4iOiIiLCJ2bl9lcXVhbCI6IiIsImljb25fY2xhc3MiOiIiLCJpY29uX3NpemUiOiIiLCJpY29uX2NvbG9yIjoiIn0seyJic19jbGFzc19pZCI6IjEyIiwibmFtZSI6InNlcnZpY2VzIiwibGFiZWwiOiJQZXQgU2VydmljZXMgRGVzaXJlZD8iLCJ2YWx1ZSI6IiIsInZhbHVlX3ByZXNldCI6IiIsImh0bWwiOiJzZWxlY3Rib3giLCJtYW5kYXRvcnkiOiIxIiwibGFiZWxfZGVsaW0iOiIiLCJhZGRfY2xhc3NlcyI6IiIsImFkZF9zdHlsZXMiOiIiLCJhZGRfYXR0ciI6IiIsImljb25fY2xhc3MiOiIiLCJpY29uX3NpemUiOiIiLCJpY29uX2NvbG9yIjoiIiwidGVybXMiOiIiLCJvcHRpb25zIjpbeyJuYW1lIjoiV2FzdGUgUmVtb3ZhbCIsImxhYmVsIjoiV2FzdGUgUmVtb3ZhbCJ9LHsibmFtZSI6Ik9kb3IgRWxpbWluYXRpb24iLCJsYWJlbCI6Ik9kb3IgRWxpbWluYXRpb24ifSx7Im5hbWUiOiJEb2cgV2Fsa2luZyIsImxhYmVsIjoiRG9nIFdhbGtpbmcifSx7Im5hbWUiOiJQZXQgSGlrZXMgJiBBZHZlbnR1cmVzIiwibGFiZWwiOiJQZXQgSGlrZXMgJiBBZHZlbnR1cmVzIn0seyJuYW1lIjoiRG9nIFRyYWluaW5nIiwibGFiZWwiOiJEb2cgVHJhaW5pbmcifSx7Im5hbWUiOiJEb2cgV2hpc3BlcmluZyIsImxhYmVsIjoiRG9nIFdoaXNwZXJpbmcifSx7Im5hbWUiOiJEb2cgU3dpbW1pbmciLCJsYWJlbCI6IkRvZyBTd2ltbWluZyJ9LHsibmFtZSI6IkRvZyBXZWlnaHQgTG9zcyBCb290Y2FtcCIsImxhYmVsIjoiRG9nIFdlaWdodCBMb3NzIEJvb3RjYW1wIn0seyJuYW1lIjoiRG9nIEFkdmVudHVyZSBDYW1wIiwibGFiZWwiOiJEb2cgQWR2ZW50dXJlIENhbXAifSx7Im5hbWUiOiJLOSBCZWQgJiBCcmVha2Zhc3QiLCJsYWJlbCI6Iks5IEJlZCAmIEJyZWFrZmFzdCJ9LHsibmFtZSI6IkluLUhvbWUgRG9nIFNpdHRpbmciLCJsYWJlbCI6IkluLUhvbWUgRG9nIFNpdHRpbmcifSx7Im5hbWUiOiJLaXR0eSBTaXR0aW5nIiwibGFiZWwiOiJLaXR0eSBTaXR0aW5nIn0seyJuYW1lIjoiT3RoZXIiLCJsYWJlbCI6Ik90aGVyIn1dfSx7ImJzX2NsYXNzX2lkIjoiMTIiLCJuYW1lIjoibWVzc2FnZSIsImxhYmVsIjoiSG93IEVsc2UgQ2FuIFdlIFNlcnZlIFlvdSBBbmQgWW91ciBQZXQ/IiwicGxhY2Vob2xkZXIiOiIiLCJ2YWx1ZSI6IiIsInZhbHVlX3ByZXNldCI6IiIsImh0bWwiOiJ0ZXh0YXJlYSIsIm1hbmRhdG9yeSI6IjAiLCJtaW5fc2l6ZSI6IiIsIm1heF9zaXplIjoiIiwiYWRkX2NsYXNzZXMiOiIiLCJhZGRfc3R5bGVzIjoiIiwiYWRkX2F0dHIiOiIiLCJ2bl9vbmx5X251bWJlciI6IjAiLCJ2bl9vbmx5X2xldHRlcnMiOiIwIiwidm5fcGF0dGVybiI6IjAiLCJ2bl9lcXVhbCI6IiIsImljb25fY2xhc3MiOiIiLCJpY29uX3NpemUiOiIiLCJpY29uX2NvbG9yIjoiIn0seyJic19jbGFzc19pZCI6IjEyIiwibmFtZSI6InNlbmQiLCJsYWJlbCI6IlNlbmQiLCJodG1sIjoic3VibWl0IiwiYWRkX2NsYXNzZXMiOiIiLCJhZGRfc3R5bGVzIjoiIiwiYWRkX2F0dHIiOiIifV0sIm9wdHNfYXR0cnMiOnsiYmdfbnVtYmVyIjoiNCJ9fSwiaW1nX3ByZXZpZXciOiJvcGFjaXR5LWdyZXkucG5nIiwidmlld3MiOiI2NDc1IiwidW5pcXVlX3ZpZXdzIjoiMzc4MiIsImFjdGlvbnMiOiI4MiIsInNvcnRfb3JkZXIiOiIxMCIsImlzX3BybyI6IjAiLCJhYl9pZCI6IjAiLCJkYXRlX2NyZWF0ZWQiOiIyMDE2LTA1LTAzIDE1OjAxOjAzIiwiaW1nX3ByZXZpZXdfdXJsIjoiaHR0cHM6XC9cL3N1cHN5c3RpYy00MmQ3Lmt4Y2RuLmNvbVwvX2Fzc2V0c1wvZm9ybXNcL2ltZ1wvcHJldmlld1wvb3BhY2l0eS1ncmV5LnBuZyIsInZpZXdfaWQiOiIxMV84NjQ3MTciLCJ2aWV3X2h0bWxfaWQiOiJjc3BGb3JtU2hlbGxfMTFfODY0NzE3IiwiY29ubmVjdF9oYXNoIjoiYjFmNzQ3NTFjYWI0NGY0YTFiZTE0YjBhNTVlZGMyMDQifQ==